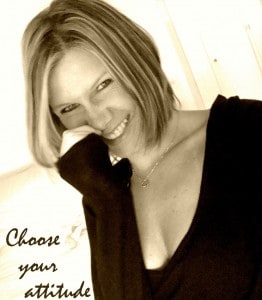 Everything can be taken from a man or a woman but one thing: the last of human freedoms to choose one's attitude in any given set of circumstances, to choose one's own way. – Viktor Frankl  [Tweet this quote]
This quote was written by a man in the concentration camps of Nazi Germany during WWII.  It is believed that this is what saved his life – his attitude.  His family was murdered.  He was stripped of everything he had and physically abused and tortured.  Would you be able to maintain a positive attitude in those circumstances?  If your desired outcome were simply to walk away from the situation with your life, could you do it?  There were many in his same situation who couldn't.
Think of the last situation in your life that didn't go as you would have liked.  Before you jump to blaming other people or aspects of the situation for why it went that way, keep an open mind.  Rewind the whole thing and think about your attitude at the very beginning, before any of it even started.
How did you feel about the people involved?  How had you felt about similar situations?  What preconceived notions did you bring into the situation?  How did you feel physically at that time?
All that created your attitude before the situation ever began.  The situation only brought out in you what was already there.
Different Attitude, Different Outcome
Let's say that you had another fight with your partner.  Rewind.  Were any of the following present before the fight began?
Were you hungry or tired?
How had your day gone?
How long had it been since you were intimate with your partner?
How did you feel about the topic that your partner brought up, before it was brought up?
Scenario 1:  It was the end of a long day.  You're exhausted.  Your boss was on your case all day.  You feel beat up and dejected.  You just wanted to get home, have a drink and vent to your partner.  When you got home your partner asked if you had run an errand on your way home.  You said no because of the kind of day you had.  Your partner (who had a day similar to yours) gets on your case about how irresponsible you are or how you always forget things (or some similar hot button that lights you up).  The fight begins.
Scenario 2: It was the end of a long day.  Your boss was on your case all day.  You realize that your boss has a lot of personal issues so you didn't let him get to you.  You know your work is top quality, regardless of how he sees it.  Mid-day you were feeling a bit run down.  Instead of plodding through to get more work done and exhausting yourself in the process, you chose to take a short walk to get your blood pumping and refresh yourself.  When you got home your partner asked if you had run an errand on your way home.  You said no because you forgot.  Your partner (who had a bad day) gets on your case about how irresponsible you are and how you always forget things.  You realize that he/she had a rough day and is only speaking from that vantage point.  You apologize for forgetting and offer to make it up somehow.  You offer him/her a drink and ask them to tell you about their day.  They vent.  You don't take anything personally.  You're both relaxed and happy.
In both scenarios, the same external circumstances existed and yet your attitude and your resulting actions created a very different outcome.
You See What You Think You'll See
What is your general attitude about life?  Are you a generally positive or negative person?  Do you think people are out to get you or do you think people generally have your best interest at heart?  Are you lucky or does the world conspire against you?  Do you have to fight to get your fair share or do you think there's plenty to go around?
You tend to get out of life what you expect.
The same environment exists around you, regardless of how you choose to see it.  You make ongoing choices about how you interpret your environment. Your interpretations are based on your attitude.
Like the saying goes:  Change your attitude, change your life.  [Tweet this]
Simple Steps to Change Your Outcome
When you wake up in the morning, as you're beginning your morning routine, stop to notice how you're feeling.
Sometimes I'll wake up in a foul mood for no apparent reason.  As I start to make my tea, I'll notice that I'm walking around with a furrowed brow and a general negative attitude.  I may have already said something snippy to one of my kids.
As soon as I notice this, I ask myself what the problem is.  If there's something bothering me (usually there isn't), I will focus on how I can address the problem quickly.  When there's no reason for me to be in a bad mood, I stop and take a few deep breaths while I smile a big, whole-face smile.  I relax my jaw and my shoulders and I hold that positive physical state for at least 30 seconds.  While I'm doing this, I run through a list of some of the many things I'm grateful for.  And, to top it off, I remind myself that my family wouldn't want to be around a negative me.  They don't need that in their lives.
With that very brief practice, I have turned my entire day around.
In the past I would let the bad mood permeate my day.  I felt like there was nothing I could do about it.  It's just the way I was.  My friends and family were subjected to my venom and they didn't understand why.  And then I got angry and resentful when they didn't want to do things for me or treat me nicely.
Looking at this now, I can see how ridiculous it all was – how deranged my thinking was.  At the time, I wondered what was wrong with everyone else.  Now I know that I'm the one with the issue.  I take responsibility for it and do something about it.  I don't expect everyone else to change to make my life better.  That will never happen.
Repeat this practice of noticing your mental, emotional and physical state throughout the day.  Notice how you're allowing it to impact your attitude.  Notice how your attitude is affecting your day.
Having a late afternoon slump or bout of low blood sugar?  What's your attitude about this?
It doesn't matter what I eat.  I just have to keep going:  Coffee and a candy bar = instant surge of energy with a crash a couple hours later and feeling like crap the rest of the day.  Cranky after dealing with traffic.  Snap at your family when you get home.  Veg out in front of the TV.
My body is a temple and deserves respect.  What I eat affects how I feel:   Protein bar or fruit with peanut butter and water = sustained energy and feeling good until dinner.  Happily sing out loud in your car while driving through traffic (energizes you).  Happy to see your family.  Have plenty of energy to play with your kids before dinner.
Two different attitudes with very different outcomes.
Choose your attitude.  Choose your outcome.
How can you change your usual outcomes with a different attitude?
---
On the 50th anniversary of my time here on earth, I've released my first book: The Joy of Now Journal: Mindfulness In Five Minutes a Day.  It's a beautiful, full-color guided journal that you can use to better appreciate the beauty of the present moment and "live in the now."
With insightful questions, inspiring quotations, and thoughtful meditations, this journal is a guide to mindfulness for anyone who spends too much time thinking about the past and/or worrying about the future.
---
It's time to put our phones away and reconnect in a more mindful way!
Bagby is a revolutionary idea that solves a technology addiction problem by encouraging a simple behavior change. Less Technology is MORE.
Bagby is a sleeping bag for your phone with a built-in slit so you can charge your phone while it's tucked away. It includes a removable hook and a classic non-digital alarm clock.
---
The Mindful Living Guide
Enter your name and email below to receive your FREE copy of The Mindful Living Guide to learn the simple steps for using mindfulness to add more happiness to your life.