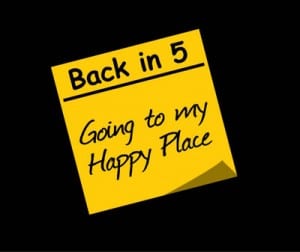 Sometimes life and other people can get to us causing us to feel stressed, anxious and generally unhappy.  What to do?  While there are tons of ways of dealing with this, we generally want to get to our happy place.
What and where is your happy place?  How do you get there?
Before
If you're driving to work in rush hour traffic, thinking and stressing about all that faces you when you get to the office, it would be almost impossible to have a relaxed and productive day.  The stress would carry through the day, probably escalating as you dealt with each difficult person and challenging situation.  Then you would further increase the stress on the drive home through another rush hour of traffic and annoying drivers while you dwelled on the day at the office and stressed about all you had to accomplish. 
You would bring all the stress and anxiety of the day home to your family.  By this time your nerves are fried and having a great conversation with your partner would be almost impossible.  Instead, you would probably want to eat something quick and comforting (and generally unhealthy) while you vegged out in front of the television.  Then you would go to bed and wake up the next day to repeat the process.
Isn't there a better way?  Of course there is.  You just have to slow down enough to get there.
We're always in such a hurry to get somewhere, accomplish and achieve more and more.  It's rare that we slow down enough to ask where we're really going.
After
Imagine this scenario instead.
You're driving to work in rush hour traffic, thinking about the great conversation you had with your partner over a healthy breakfast and how to solve the problems that you know are facing you when you get to the office.  While you're at work you work through your priorities in a relaxed and focused state.  Interactions with others are peaceful.  By the end of the day you feel good about all that you accomplished.  During the drive home in rush hour traffic you're thinking about the great dinner you'll have with your family, your children's big, loving eyes and the time you'll spend on your passion.
The Mind Game
What's the difference between the two scenarios?  Nothing in the outside world changed.  Traffic and things at home and at the office were identical.  The entire difference was a change in your attitude and the things you focused on. 
The difference is all in your head.  Literally.
How do you make the leap between the two scenarios?  By learning to get to your happy place on a regular basis.
Calming Down Your Mind
We sometimes think of a happy place as a physical place and it can certainly be that.  Taking a walk in nature.  Playing with our kids.  Having coffee and a great conversation with a friend.
But we can't limit our ability to find a happy place to something physical.  We need to be able to carry it around with us wherever we go so it's there whenever we need it.
How do we do this?
The most important first step is to slow down enough to become aware of our thoughts.  Grab your monkey mind by the neck and let it know that you're not going to let him run amok in your head any longer.
When you start feeling stressed and anxious, stop and take three deep breaths.  Stress and anxiety are types of fear.  Ask yourself what you're fearing.  Face it.  Address it right then and come up with an action you can take to diffuse it.
Getting to work late and your boss will be angry?  Start leaving 10 minutes earlier.
Dealing with a difficult boss or co-workers?  Realize that these people have issues that you can't control.  It's all about them, not you.
Completing a big project well and on time?  Know that every day you're doing your best.  Perfection is impossible (and a huge waste of time and your energy).  Your best will change from day to day but as long as you're doing your best, that's the best you can do.
Having too much to do?  Limit your to do list to no more than three things every day because that's realistically all you'll be able to accomplish – and sometimes that's a stretch.  Changing your expectations changes your perception of what you do accomplish and allows you to feel better.
Happy Places
Now that you've slowed things down and given your mind more productive things to think about, you can move to your happy place.
Who or what makes you incredibly happy?
Take a moment to do these things in your mind now. 
Close your eyes. 
Relax all of your muscles. 
Clear your mind. 
Take a few deep breaths.
Now go to your own private happy place in your mind.  See, hear, smell, feel yourself in your happy environment.
Spend a few minutes there. 
You might feel like you can't if you've got a lot going on.  The world – your world – won't come crashing down if you stop for a few minutes.  It's the same amount of time it would take you to go to the bathroom.  Maybe go to the bathroom to do this so you'll have the privacy and you won't have to worry about what others might think.
We all need to spend more time in our happy places.
How can you prioritize spending time in your physical happy place more often?
Set reminders in your calendar to go to your virtual happy place throughout your day.
You'll be amazed at how this simple exercise can transform your days and your life.  You'll have more energy.  You'll have a more positive outlook.  Your relationships will benefit from your increased positivity.
How do you get to your happy place?  How does doing this impact your life?  I'd love to learn your perspectives.
---
I just found my new favorite mindfulness app:  Chill.  It's just what I need in the middle of a hectic day to remind me that all is well in this moment and to simply breathe.  You can set it to give you up to five reminders a day to be mindful like:
"Come back to your body.  It exists right here in this moment.  Let it be your anchor."
"Take a moment to think of someone you love.  Feel that love inside you.  Sit silently with that feeling for a moment."
"Feel the silence inside you.  Feel how expansive that silence is.  You're as vast as the sky."
"You are right here, right now.  Don't let your thoughts tell you otherwise.  Breathe in this moment."
Chill also provides beautiful daily quotes from Buddha, Lao Tzu and other Zen masters on a backdrop of a peaceful image.  With a touch of a button you can also share these quotes via text, email and all the social sites.   The app's curator is a Buddhist ordained in the tradition of Zen master Thich Nhat Hanh. The quotes are based in Buddhist ideas of mindfulness but come from many traditions. They speak about the challenges we all face, and how to mindfully center ourselves in the midst of modern life.
It's free or $1.99 if you want to get rid of the little ads at the bottom.  It works on iOS and Apple Watch.  You can find out more or download the app HERE.
---
What if the only thing between you and the answers you're looking for is the right question? The kind of question that can instantly cut through years of confusion, is worth a thousand words of advice, connects you to the wisdom of your heart and unlocks the truth inside you.
What is the right question? You can find yours somewhere in your deck of Inquiry Cards.
Each Inquiry Card - each question - is an opening to insight, intuition, intention, integrity, inspiration, inner compass, introspection, instinct, inner vision, involvement, integration, innate intelligence, intimacy and infinite possibilities.
It all begins with Inquiry. Because the answers are inside you.
I am loving my deck of Inquiry Cards!  I've been using them for the past couple months. They come with a beautiful wooden stand where you can place the card/question that you're focusing on.  Simply seeing the card on the stand on my desk reminds me to pause, take a deep breath and spend a moment asking my True Self the question and being open to whatever answers arise.
---
Have you been trying to start or maintain a meditation practice but life keeps getting in the way?  I'm there with you - and I found a solution: Daily Meditation Videos delivered to your inbox every morning.  They've been gently nudging me each day to take just a few minutes in the middle of my day to stop and breathe.  The creator has done the hard part of culling great guided meditation videos from YouTube and delivering them to you in a simple, beautifully designed email.  All you have to do is click, listen, relax and breathe.
---
The Mindful Body program includes many ideas that you can use every day to avoid gaining extra weight while keeping your energy and spirits high.  It's also a great gift to share with the special people in your life.  
Click here to pay what you want for the Mindful Body program
---
Like what you read?
If so, enter your name and email below to get your FREE copy of my comprehensive guide to inviting more joy, peace and happiness into your life. You'll also be the first to receive updates and news in the Simple Mindfulness community. Just enter your name and email below: