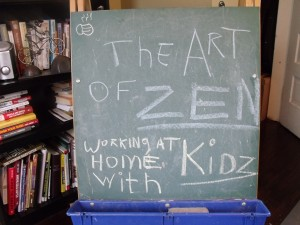 "Change is not a process for the impatient." -Barbara Reinhold
We go through our lives creating to do lists, crossing things off and adding more.  We're never done.  As much as we spend our thoughts and days on completing and accomplishing things, I always remember a quote I read somewhere:
Your inbox will still be full the day you die.
Where does that driven, need-to-achieve feeling come from?  Like we're not quite enough if we haven't done enough.
And, right along side it, the impatience with where we are and what we haven't yet accomplished.
And the worry over doing things right or getting them done at all.
I expend great amounts of energy almost every day worrying about what I'm not accomplishing.  Being impatient.  Subconsciously beating myself up for procrastinating, not staying focused and generally not doing enough of the "important" stuff each day (writing and other work).
By spending so much mental and physical energy like this, I'm missing out on the truly important things like spending more focused time with my children and husband, time to be quiet and simply be, time to relax.
The curse of mindfulness
Learning and practicing mindfulness can sometimes be frustrating.
It's one thing when you do crazy things and aren't aware of your actions.
It's quite another when the mindful you consciously watches the stressed you do crazy things and asks the stressed you what the hell you're doing.  It's like you're doing things that you know are counter to the way you want to be.
The good thing is that, with this awareness, you can stop yourself mid-stream and make a different choice.  Without the awareness you continue to follow the unproductive path and wonder how you ended up where you did.
Talking to myself
I thought I would let you in on a recent conversation (or tennis match) that went on in my head (S is the stressed me and M is the mindful me):
S: I've GOT to get this stuff done today!  And it's already 1pm.  What happened to the day?
M: How much have you actually accomplished today?
S:  Well, I did A and B but I still have C, D and E to get done before the end of the day.  People are relying on me to get all this done!
M: That's awesome that you already did A and B! What's the worst that would happen if it didn't all get done today?
S: Others may get upset, or not.  I would be letting them down.  For the things I'm doing for my own business, whatever didn't get done today would just roll into tomorrow.  But I would be that much farther behind.
M: Behind what?
S: What I set out for myself to accomplish this week.  It's already Thursday!
M: How are you feeling today?
S: Stressed and not quite enough.
M: Is that how you want your life to be?
S: Obviously not.
M: Will accomplishing your weekly goals change how you feel?
S: Sure.  In the short term I'll feel better but then I'll set the same or more goals for myself the following week and repeat the same stressful cycle.
M: So, accomplishing your goals won't really change how you feel each day?
S:  Thanks for throwing that in my face!  I guess you're right.
M: How do you want to feel each day?
S: Relaxed and accomplished.  Feeling good about whatever little things I do accomplish each day.
M: Can you do that right now?
S: I'm not sure.  I can try.
M:  Yoda quote: "There is no try.  There is only do."  Take a deep breath.  Think about what you've already accomplished today.  Can that be enough for you?
S:  No.  But. But. But.  I don't want to keep living like this.
M: Why is it important to you to keep living like this?
S: Ouch.  I'm defending some bizarre way of being that is completely counter to what I really want.  I'm attached to it, to making sure it doesn't change.  I can feel how tightly I'm holding onto it.  It's really wearing me out.
M: Then let go.  Stop making it so hard.  Release the tension.  Let go.
S:  I feel like I'm falling if I let go.  It's scary.
M: You're not falling.  You're flying.
S: Releasing my death grip on all that feels good.  I can relax again.  And my world isn't ending.  Well, my old world is ending but it's a world that's not serving me.  It's hard to let it go but I know it's the best thing for me.
M: Great!  Keep going!
S:  And I know that, in order to not fall back into my old world, I have to accept things just the way they are.  Accept that I have a lot of things I'm committed to each day and that I usually can't do everything every day. 
My top values are my health, my family and my integrity.  To maintain my health, I make sure I practice yoga and meditate each day.  I put my family before my chores, job and business.  Make sure my kids and husband know that they come first by showing them every day.  Maintain my integrity by practicing what I preach.
I'm not perfect and some days will be better than others.  That's OK.  I'm doing my best and that's the best I can do.
I realize that I've been resisting the way things are and that's what's created all my stress and anxiety.  Releasing the resistance and accepting the way things are has made a world of difference in other areas of my life.  It's time to implement it here.
While that feels like "giving up" at first, it's a wonderful feeling once I let it sink in.
simple steps
Do you have grand plans for yourself and your life?  Do you stress and worry about getting it all done?
Here are some points to consider:
What's the purpose of my life?  What's my mission?
What's the point of accomplishing all these worthy and noble things if I neglect my values along the way?
How can I include them?
When I start stressing about what's not getting done, ask: What's the worst that could happen?
Slow down.
Feel good.
Be happy.
---
Be a part of something important to YOU!
I'm in the process of creating a series of programs that delve into how to implement mindfulness in your own life and reap its many benefits.
So that I can cater these programs to your specific needs, could you take a moment to answer two questions on this survey?   http://www.surveymonkey.com/s/TCCVJLS   All information that you convey will be held in the strictest of confidence.  Thank you so much for your help!
---
The Mindful Living Guide
Enter your name and email below to receive The Mindful Living Guide and the latest from the blog. You know your life will be better for it.
---
Having trouble focusing? Here are my secrets and those of 36 other very smart and focused people: 99 Smart Ideas: How to Focus: 37 Experts Reveal Their Best Tips.
---
Hear the story of my life on the Join Up Dots podcast! http://bit.ly/jud-465
David and I discuss what was going on in my head when I left a great job in Boston to venture west and into the unknown to create the life of my dreams.  We also discuss my approach to life that anyone can adopt that keeps me happy.  Check it out HERE!
---
Find out how to easily (and happily) manage your weight and improve your health with mindfulness using the Mindful Body Program.
---
Like what you read?
If so, enter your name and email below to get your FREE copy of my comprehensive guide to inviting more joy, peace and happiness into your life. You'll also be the first to receive updates and news in the Simple Mindfulness community. Just enter your name and email below: