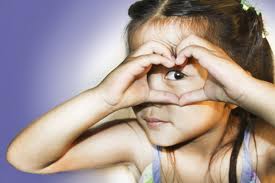 We all have our list of things we want in life – great relationships, a nice home, a healthy body, financial security and more.  Have you ever stopped to ask where your definitions of these goals came from and why you want them?
Are those images in alignment with your values, the things you hold most dear?  Or are they based on what you think you should have in this point in your life?  Or are they what someone else expects of you?  Or are you trying to prove something to someone or be better than someone else? Are you trying to re-live some aspect of your past?
Will obtaining the things you want make your heart happy?
Advertising and media are very good at telling us what we should want and have.  Their messages are so slick that we usually don't even think about whether we really need their offerings.  We just want them – and now.
Like the practice of waiting 30 days before making a "needed" purchase (at which point you usually realize that you don't even want it anymore), take some time to consider all the things you "need" in your life.
New Understandings
Relationships
I used to think that the perfect relationship was one where there are no fights.  My first marriage went this way and ended this way.  We never fought but we also had no idea how to communicate.  If I did something to upset him, I usually had no idea what I had done.  My only clue that I had done something that hurt him was his silent treatment which persisted even when I asked him what I had done.
My current marriage has been filled with disagreements and I almost ended it because of that, hanging onto my old beliefs.  Another old belief was that, when things get bad you just leave.  Thankfully, my husband is extremely patient and has been there for me as I've learned how to communicate and work out our differences.
Through our many conflicts we've both grown immensely and we have the happiest relationship ever.
Home
When we went house hunting about 12 years ago, my husband wanted a yurt on 100 acres.  I told him that I didn't want to live in a tent.  I wanted a nice home.  So we bought a nice home on 20 acres.  My vision of a nice home was a combination of things I read about in many home and redecorating magazines combined with my interpretation of society's image of a "nice home."
After experiencing all these years in our nice home, I now want a yurt on 100 acres.  A nice home has too much space to heat, clean and store stuff we don't really need.  I've stayed in a yurt and I know how beautiful and comfortable they can be.  And it's amazing how inexpensive a yurt is to construct compared to a nice home (goodbye mortgage!).
Health
I've created healthy habits over the years to ensure that my body looked and felt like it did when I was in my twenties.  After I hit thirty, though, things didn't quite work like they did when I was twenty.  And forty brought even more surprises like my first grey hairs and fine lines.  Never mind what giving birth to three children does to a body.  I had to accept the fact that I'm getting older and my body is different.  It will never again be like it was when I was in my twenties.
Instead of trying to emulate the young models, my new picture of health is an older model from the Sundance catalogs (I haven't seen her in a while) with long, flowing grey hair and a look of peace in her face.  I've also had a therapist who fits this description.  I almost fell out of my chair when she told me she was over sixty.
My views of beauty have shifted from what's on the outside (to live up to society's picture of beauty) to what's on the inside.  That look in the eye of a peace within.  The natural glow.  The relaxed nature.  I just want to feel good.  When that happens, I know I'm beautiful.
Finances
In the financial realm, I remember thinking as I got out of college that when my income reached a certain level, I'd be all set and I would never have any issues with money.  Well, my income got to that level and much more and my financial problems only got bigger along the way.  My underlying feelings of entitlement along with some childhood programming (debt is the American way) got me into some pretty big financial problems.
When it became blatantly clear that my financial habits were no longer sustainable, I had to take a long, hard look at the things inside of me that were creating these problems.  It's like an old saying goes:  Money doesn't cure problems, it magnifies them.
I began to examine what was behind every financial choice I made.  Why did I really want what I thought I wanted?   Was it so important to have that I would rob my future and go into more debt?
It seems that the issues that we manage to cover up in every other area of our life become more apparent in our financial lives.  Numbers don't lie.
It was when I faced my emotional issues, looking at them objectively as an outside observer without judgment, and making new, conscious choices in all areas of my life that my financial life turned around.
The Shift
When I started to make conscious choices that supported my values, all areas of my life improved.
Over the years, the "why" behind my desires has shifted from external sources (what society, advertising and the like say that I should want or to please other people) to internal sources (my values, what's important to me, what makes me happy).
I used to see things and people in my life as never quite right or not enough.   Now I accept what is and I'm happy with what I have in all areas of my life.  With this I've gone from a general feeling of uneasiness to a sense of contentment.
Why do we want all the things we want in life?  Ultimately, to be happy.
Are your choices supporting your long-term or short-term happiness?  "Both" is the best answer.  My advice would be to not sacrifice your long-term happiness by succumbing to your desire for the "quick fix" for short-term happiness.
What have been your experiences in this area?  Have you noticed any shifts over the years?
---
I just found my new favorite mindfulness app:  Chill.  It's just what I need in the middle of a hectic day to remind me that all is well in this moment and to simply breathe.  You can set it to give you up to five reminders a day to be mindful like:
"Come back to your body.  It exists right here in this moment.  Let it be your anchor."
"Take a moment to think of someone you love.  Feel that love inside you.  Sit silently with that feeling for a moment."
"Feel the silence inside you.  Feel how expansive that silence is.  You're as vast as the sky."
"You are right here, right now.  Don't let your thoughts tell you otherwise.  Breathe in this moment."
Chill also provides beautiful daily quotes from Buddha, Lao Tzu and other Zen masters on a backdrop of a peaceful image.  With a touch of a button you can also share these quotes via text, email and all the social sites.   The app's curator is a Buddhist ordained in the tradition of Zen master Thich Nhat Hanh. The quotes are based in Buddhist ideas of mindfulness but come from many traditions. They speak about the challenges we all face, and how to mindfully center ourselves in the midst of modern life.
It's free or $1.99 if you want to get rid of the little ads at the bottom.  It works on iOS and Apple Watch.  You can find out more or download the app HERE.
---
What if the only thing between you and the answers you're looking for is the right question? The kind of question that can instantly cut through years of confusion, is worth a thousand words of advice, connects you to the wisdom of your heart and unlocks the truth inside you.
What is the right question? You can find yours somewhere in your deck of Inquiry Cards.
Each Inquiry Card - each question - is an opening to insight, intuition, intention, integrity, inspiration, inner compass, introspection, instinct, inner vision, involvement, integration, innate intelligence, intimacy and infinite possibilities.
It all begins with Inquiry. Because the answers are inside you.
I am loving my deck of Inquiry Cards!  I've been using them for the past couple months. They come with a beautiful wooden stand where you can place the card/question that you're focusing on.  Simply seeing the card on the stand on my desk reminds me to pause, take a deep breath and spend a moment asking my True Self the question and being open to whatever answers arise.
---
Have you been trying to start or maintain a meditation practice but life keeps getting in the way?  I'm there with you - and I found a solution: Daily Meditation Videos delivered to your inbox every morning.  They've been gently nudging me each day to take just a few minutes in the middle of my day to stop and breathe.  The creator has done the hard part of culling great guided meditation videos from YouTube and delivering them to you in a simple, beautifully designed email.  All you have to do is click, listen, relax and breathe.
---
The Mindful Body program includes many ideas that you can use every day to avoid gaining extra weight while keeping your energy and spirits high.  It's also a great gift to share with the special people in your life.  
Click here to pay what you want for the Mindful Body program
---
Like what you read?
If so, enter your name and email below to get your FREE copy of my comprehensive guide to inviting more joy, peace and happiness into your life. You'll also be the first to receive updates and news in the Simple Mindfulness community. Just enter your name and email below: