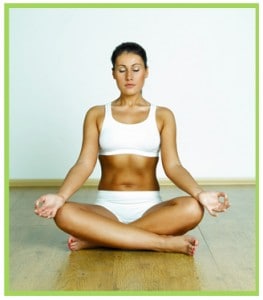 How do you feel about your body?
How does your body feel?
It's amazing how disconnected we are from our bodies even though our bodies are what physically get us through our days.
Our minds take over telling us that we must be productive – get things done!  It's also what society tells us is important.  We are the things we accomplish.
It's time we start breaking those rules, standards, expectations.
Honestly, we can't accomplish much if our bodies aren't properly cared for.  And you know this but you continue to put caring for yourself off to when you "have the time."
You stay up late watching TV or working, cutting into the precious hours of sleep that you know you need.
You have dessert for breakfast with the big coffee drinks (have you checked the sugar and calorie content in those things?) and drink more coffee and each more carbs and sugar throughout the day to keep you going.  Gotta be productive, right?
You grab whatever is fast and convenient because you don't "have" the time to think about something healthier.  You actually have the time.  You don't choose to take it.
You skip your workout because you've got some pending deadline or you're so tired that you just don't feel like it.
And where does that leave you?
Tired, spent, fuzzy headed, stressed, anxious, weak.
There's a much better way and you know it.  You hear about how to live a healthier lifestyle all the time.  So why aren't we all choosing this lifestyle?
Because it's hard to stop and be still and listen to what's really going on inside of us.  Sometimes it's downright painful.
It's so much easier to gloss over the tough stuff inside with the easy stuff outside.
My question to you is:  Do you want to feel this way for the rest of your life?  That's a long time.  And your life is all you have.
A Powerful 10 Minutes
Instead of making New Year's resolutions that you'll never keep for more than a couple weeks or saying that you'll change your ways – promise! –  or going on yet another diet, how about just sitting still for 10 minutes every day?
At first 10 minutes will be painful.  Start with one or two if that's the case and build up slowly over time.
Commit to devoting 10 minutes each day for you.  You're so worth it.
And what do you do during those 10 minutes?
Nothing but breathe.
Don't do anything.
Just be.
And breathe.
Do a body scan and notice the sensations in every part of your body.
Notice your thoughts.  Don't judge them or yourself for having them.
How do you feel in the moment?  Where in your body do you feel that feeling?
Whatever you're experiencing in the moment – experience it fully with an inquisitive mind, a beginner's mind.  No judgment.  No attachment.
You are not your thoughts.
You are not your emotions or feelings.
All of these things are temporary.  They come and go.  You are still as they come and go.
If you're experiencing something painful, stay with it.  It has something very important to tell you.
Treat the pain, whether it's physical or emotional, as another person or being and have a conversation with it.  Be inquisitive and light.  Ask it why it's there.  Ask it what message it has for you.  Take whatever message you receive to heart.
All of this may seem totally hokey and woo-woo to some of you but, trust me, it works.
This is one way to practice mindfulness.
Understanding Choices
Now what does any of this have to do with having a healthier body?
It's all about the choices we make in every second of every day and night.
It takes mindfulness to understand why we make the choices we do.
Without getting to the core of a problem (the driver of our choices), anything we do only treats the symptoms and the problem will rear its ugly head again and again.  This is actually what anti-depressants and anti-biotics do and doctors prescribe them over and over because it's not their job to get to the heart of the problem.  It's our job.
Do you overeat and remain overweight because you experienced some kind of hurt or abuse and now you can't bear to allow others to be close to you so you use the weight to keep yourself unattractive?
Are you driven to work crazy hours, sacrificing exercise and sleep, because of an internal belief that you're not good enough and, no matter what you do, you'll never be good enough but you push yourself harder and harder anyway?  Or do you over-exercise for the same reasons?
Do you have a big enough "why" to compel you to make the changes you say you want to make?
Without understanding your why and keeping it front and center, without understanding why you make the choices you do, lasting change is almost impossible.
Implementing Mindfulness
If you decide that you want to lose weight, before making any changes, start to notice how you feel when you make the choice of what to put in your mouth throughout your day.  Why did you choose what you chose?  Before you take the next bite, ask yourself if you really want it.  How will it make you feel in an hour or the next day?
If you want to start a regular exercise program, start to notice how you feel when you wake up and at other times during the day.  Could you motivate yourself to even the easiest of exercises?  If not, why not?  If you can, then do that exercise.  Notice how you feel with either choice.
One of the keys to mindfulness is to notice things without judging them.
Don't beat yourself up for not being able to live up to what others think you should do.  Or what you think others think you should do.
It's not going to work for everyone to get up early, exercise for an hour, eat a big, healthy breakfast and hit the day running.
I started experimenting with my day and found that I feel much better when I exercise around 1pm or 2pm in the afternoon instead of 5am like I did for years.
I found that I'm not very hungry until later in the morning and I only need about half of what I had been eating.  I noticed how full I felt after eating only half of my bowl of oatmeal.
At the tender age of 44 I'm finally learning how to not eat everything on my plate like I was made to do as a child.  It actually took my husband pointing it out to me for me to realize I was doing it.  Thankfully I've been blessed with a healthy metabolism.
Simple Steps
Mindfulness is a practice.  Like any practice, at first we have to remind ourselves to practice the practice.
Consider setting an hourly timer on your phone (there are a variety of mindfulness apps out there).  Or put a ring on a finger that you don't normally wear it on.  Whenever those things capture your attention, remember to be mindful of your thoughts, emotions and actions in the moment.
How do you want your body to look and feel?
Are your moment-to-moment to choices supporting that vision?
---
The article above is the first in a series of six covering mindful body, relationships, career, finances, spirit and mind. I'm developing these into a series of online courses.  I want these courses to be incredibly valuable to you so I need your help.  Are there topics that you would like the courses to cover that I haven't covered here?  Are there concepts that you would like to see covered in more depth?  I'm open to your ideas.
Help me to help you by posting your comments below or emailing me at Paige at PaigeBurkes dot com.  I genuinely value and appreciate your feedback.  I'm here for you.  Thank you.
Do you find it natural to show kindness and compassion towards others but struggle when it comes to yourself? Do you devote time and energy to your relationships with other people but forget to nurture your relationship with you? Would you like to feel compassionate, confident and accepting towards yourself?
If you answered "yes" to any of the above questions, you'll want to click HERE to learn more about the Self-Kindness Kit: an amazing collection that will help you deepen the most important relationship in your life—the one with yourself! You can get my Mindful Body Program along with 20 other beautiful ebooks, courses, and programs worth over $800 for just $79 until midnight Thursday May 5th. 10% of each sale goes to the charity To Write Love on Her Arms which offers hope and support for people struggling with depression, addiction, self-injury and suicide. Let's pay it forward!
---
The Mindful Living Guide
Enter your name and email below to receive The Mindful Living Guide and the latest from the blog. You know your life will be better for it.
---
Having trouble focusing? Here are my secrets and those of 36 other very smart and focused people: 99 Smart Ideas: How to Focus: 37 Experts Reveal Their Best Tips.
---
Hear the story of my life on the Join Up Dots podcast! http://bit.ly/jud-465
David and I discuss what was going on in my head when I left a great job in Boston to venture west and into the unknown to create the life of my dreams.  We also discuss my approach to life that anyone can adopt that keeps me happy.  Check it out HERE!
---
Find out how to easily (and happily) manage your weight and improve your health with mindfulness using the Mindful Body Program.
---
Like what you read?
If so, enter your name and email below to get your FREE copy of my comprehensive guide to inviting more joy, peace and happiness into your life. You'll also be the first to receive updates and news in the Simple Mindfulness community. Just enter your name and email below: