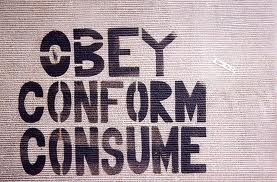 This is a story about us being persuaded to spend money we don't have, on things we don't need, to create impressions that won't last, on people we don't care about.  – Tim Jackson's TED talk: Economic reality check
The messages we're bombarded with from government, media and many other sources would have us believe that we need to be good consumers who want and buy ever more stuff to keep the machine churning.  Government officials love to feed us the line that increased spending supports jobs.  It's all a bunch of BS.
As a society we're spending at record levels and jobs and general economic stability are at some of their lowest points in history.  We're one of the unhappiest lots in history.
It's high time we stopped buying into the messages of fear that are constantly fed to us in order to control us and keep us a scared flock of sheep.
Throughout the year, and especially during this holiday season, I challenge you to be more mindful of your consumption.  Consumption of food, gifts, time, money and energy.
Before over-indulging at the next holiday party or dinner, think about how hungry you are.  Think about how you'll feel the next day after consuming what you're about to put in your mouth.
Before spending your life energy (i.e. money) on a gift, think about why you're spending it.  Are you buying a heart-felt gift for a special person to convey how you really feel about them?  Or are you buying out of guilt?  Or to prove your worth?  Or to out-do the recipient?  Or to do what others expect of you?  Or to make others happy?
Before accepting yet another invitation to a party or event, consider if that's the best use of your time.  Will you connect with people you truly want to be around?  Or will you attend to be accepted by a group that doesn't really support your goals or values?  Would the time be better spent with close friends or family, or alone, nurturing yourself?
How do you feel about your responses?  There's no right or wrong, good or bad response.  Just notice.
Some areas where I've been more mindful are:
My investment of time and energy in preparing large holiday meals for my family.  I love making delicious meals that my family enjoys.  While I cook a bit more for a holiday, I don't eat more than I normally would.  We make the time spent cooking and eating memorable by reminding ourselves of what we love about each other and sharing great memories that we all have of being together.  Then we reflect on the great memories of that day as we eat the leftovers.  This one is a keeper.  I actually realized that I enjoy this tradition more than I thought after taking the time to consider how I really feel about it.
Buying gifts for friends and family for reasons other than a genuine, heart-felt desire.  It occurred to me this year that I don't really know my family members (outside of my husband and kids) well enough to buy them a truly heart-felt gift.  In the past I've generally bought gifts because that's what's expected.  The gifts have usually been gift cards because they're easy, I don't have to think much about it and the recipient can turn them into whatever they want.  I've done my duty.  I've chosen to not continue this one.  I don't want to be the giver or the recipient to this kind of gift.  I don't need more stuff in my life (I actually need to purge a bit more).  I don't want others to give me anything out of a sense of duty or guilt.  I know that this decision won't go over well with others who want to maintain the status quo but I'm acting in accordance with my own personal values.
My hope is that you are simply more mindful in the decisions you make throughout the year.  Take the extra moment to consider whether your decisions are in alignment with your own personal goals and values.  And, yes, having fun can definitely be one of those goals or values.
How has being more mindful about your choices affected those choices?
---
Need a reminder to be mindful or grateful?  I recommend iThrive Journal and Live Intentionally, two new apps for the iPhone, iPad, or iPod touch that help you develop the power of positive thought and mindfulness.
iThrive Journal is a beautifully designed journaling app to record your efforts to thrive each day. It reminds you at set times to record how you've thrived.  It prompts you with questions like:
How is your day going?  Surviving or thriving?  You are in control!
Do something today your future self will thank you for.  Thrive!
How did you thrive today? Record your success
Live Intentionally is a simple, intuitive app that pulls events from your calendar and allows you to set an intention for each event. Then gentle reminders throughout the day help you to lead the life you intend.
The tools used in these apps helped their developer pull through depression and grief to a life of thriving and intention, and they can help you too!
---
---
I made the list of the Top 100 Personal Development Blogs of 2015!  Click here to see the other amazing bloggers on the list.  Lots of great resources here!
---
The Mindful Body program includes many ideas that you can use every day to avoid gaining extra weight while keeping your energy and spirits high.  It's also a great gift to share with the special people in your life.  
Click here to pay what you want for the Mindful Body program
---
Like what you read?
If so, enter your name and email below to get your FREE copy of my comprehensive guide to inviting more joy, peace and happiness into your life. You'll also be the first to receive updates and news in the Simple Mindfulness community. Just enter your name and email below: