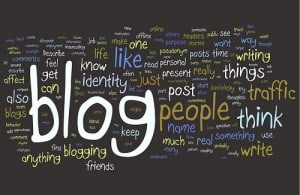 I've had people ask me about what it takes to create a blog and web site.  Many people feel like it's something they couldn't possibly do because they are not technically savvy.  They feel that it would be too expensive or too complicated.
I'm here to tell you that anyone can do it and it costs very little. 
I didn't know the first thing about web sites or much else in cyberspace.  I could look things up in Google and admire slick looking sites without having a clue as to what it took to create them.  I assumed that businesses paid big bucks to web site developers to get anything beyond some basic text on a page.
When I started my business, I knew I needed a web site.  I spoke to a local web site developer but the quote he gave me for a basic site was out of my budget.  So I thought, "Hey, I'm a fairly intelligent person.  I can figure this out."  And I did.
Like anything else in life, when you break it down to small baby steps, anything can be accomplished.  In this series of blog posts, I'll take you through the steps I went through to create my blog.  There are many different ways of accomplishing it and I'll mention some variations if they're something I know a little about. 
I will say that I'm no expert in this arena but I've spent the time to learn a fair amount and want to pass along all that I've learned.  I'll also discuss some of the mistakes I've made so that hopefully you can avoid them.
What is a blog?
A blog (originally known as a "web log") is a web site where people record things.  It could be like a personal journal, a technical journal, general information or anything you want.  It could be written words, videos, pictures, audio recordings or a combination of these things.
Blogs took off around 2004 when the term "Web 2.0" started to be used.  While this sounds like there was an upgrade to "web" software, it actually refers to an evolution (as quickly as that happens in cyberspace) from static web pages that people viewed to a participatory environment where users/viewers could contribute content and interact with web sites.
This is when Wikipedia was born.  Wikipedia is an online encyclopedia that was created and continues to be added to by its users and is managed by the non-profit Wikimedia Foundation.
Blogs are now a facet of social media along with Facebook, Twitter, LinkedIn and thousands of other social media sites.  All of these mediums allow users to interact with each other.
For a bit more on what blogs are and a description of their components, check out WordPress.org's article here.
Now let's get into what it takes to set up a blog or web site.
Step 1: Why do you want a blog?
Before we get into anything technical, ask yourself why you want a blog or site.  Is it just to convey information?  Will you turn it into a vehicle to sell things?  If so, what are you selling?  Your own products and services, someone else's or a combination?
If sales will be involved, what is your niche?  Who is your target audience?  What problems can you solve for them?
When I started my blog, I thought I had this figured out.  I want to help people make breakthroughs in their lives.  Now I'm wondering if that's too broad.  There are two areas that excite me: helping people to live their passion and improving health to live an energized life.  I'm looking at ways to combine the two but, right now, they seem very separate.  And I know that my thoughts on all this will change as I move forward.  It's just part of the process and I'm good with that.
So don't think you have to know all of this before you start.  Just have some good ideas and take the first few steps.  Yes, you'll make mistakes (some small, some not so small).  Mistakes are good.  The more mistakes you make, the more progress toward your goals you'll make.
Step 2:  Find other people who are doing what you want to do and copy what you like about them and their sites.
Google your niche and see what comes up.  Use different variations of your search terms as you'll get different answers.
Go to the sites that look interesting.  Notice what made them interesting to you.  Is there a common theme across these sites?  Do you notice something that's missing that you can provide?
Notice the look and feel of the sites that you do and don't like.  Exactly what about them makes them something you would or would never visit again?
Take notes about what you want to include in your site: backgrounds, colors, where certain features are (opt-in box, search box, categories, etc.). 
What kind of free information are they offering?  What are they selling?
Step 3:  Sketch out on paper what you want each page of your site to look like.
Now you have the background to know generally what you're going to create.  As Steven Covey says, "Start with the end in mind."
Do you want the first page that people see to be your blog or a static page (where the text/graphics don't change)?
What do you want down the right and left margins?  Things like an opt-in box, social media buttons, a site index, etc.
What other pages do you want?  An "about you/your business" page, a contact page, your store, pages of static text on a variety of topics, etc.
This will get you started.  We'll get into more of the technical side of things in the next post (domain names and URL's).  Without this planning though, the technical part won't mean much.
Happy planning!
---
The Mindful Living Guide
Enter your name and email below to receive The Mindful Living Guide and the latest from the blog. You know your life will be better for it.
---
Having trouble focusing? Here are my secrets and those of 36 other very smart and focused people: 99 Smart Ideas: How to Focus: 37 Experts Reveal Their Best Tips.
---
Hear the story of my life on the Join Up Dots podcast! http://bit.ly/jud-465
David and I discuss what was going on in my head when I left a great job in Boston to venture west and into the unknown to create the life of my dreams.  We also discuss my approach to life that anyone can adopt that keeps me happy.  Check it out HERE!
---
Find out how to easily (and happily) manage your weight and improve your health with mindfulness using the Mindful Body Program.
---
Like what you read?
If so, enter your name and email below to get your FREE copy of my comprehensive guide to inviting more joy, peace and happiness into your life. You'll also be the first to receive updates and news in the Simple Mindfulness community. Just enter your name and email below: